The Game of "Expansion" and "Control" of Tire Capacity
Recently, Zhang Wanyou, the general manager of Shuangqin Group, talked wittyly about one thing at the China Rubber Industry Association: He called a friend and said that he had come to Dongying and thought of Dawang (town) as a friend. The friend's reply was: "You don't go to the King to come to me. I've already gone to Linyi to work." Zhang Wanyou wanted to tell the industry insider through this incident that Shandong Province may be raising "the second king town"— Linyi City is also building a new tire production base.
Linyi will become the "second king"?
In the tire rubber industry, Dawang Town, which is located in Guangrao County, Shandong Province, was unknown to all.
As is known to all, Dawang Town is a well-known gathering place for tire production. The famous tire production base in Dongying City and the annual Guangrao Tire Exhibition are almost all based on and formed around Dawang Town.
Now, Linyi City is also building a tire industry base that is not small, and some companies are planning to put the new plant in the future. So, what is the original transfer of tire capacity? Or is it adding new tire capacity?
"Of course it is new." The management of a company in Shandong affirmed to reporters.
According to report, at present, 17 semi-steel tire production enterprises have settled in Linyi City, and several related companies are still negotiating or considering. Industry insiders also told reporters that Linfen mainly produces semi-steel tires for use in passenger cars, and even a full-steel tire company has put into production a semi-steel tire after it has established a factory in Linyi.
According to relevant sources, in order to allow more tire manufacturers to settle down in the area, the Linyi Municipal Government has introduced a policy of attracting investment that is very attractive to enterprises, including tax concessions for up to five years.
You can see on the website of the Linfen City Government that, in accordance with the local "tax and fiscal incentives" for investment promotion, if a wholly-owned new industrial project, a fixed asset investment of 10 million yuan or more, and an operating period of more than 10 years, will be used from the date of production, In the first two years, 100% of the local government revenue was given as support, and 50% as a support in the third to fifth years, with more preferential investment. At the same time, in terms of land for project construction and fees for administrative services, the local government has a relatively large policy preference for industrial projects.
Relevant regulations or become a piece of paper?
The reporter exchanged views with some people in the industry and found that in view of the continuous increase in the production capacity of such tires, it was actually a matter of "controlling" or "expanding." Many people are actually very confused.
"After all, the restriction policy has come out. The government's idea is of course controlled. But local governments have local government methods, and companies also have the need to expand production. It's hard to hold this momentum." Say.
In January 2014, the Executive Meeting of the Shandong Provincial Government in principle passed the "Implementation Opinions on Resolving the Contradiction of Serious Overcapacity." This open document shows that in the future, Shandong Province will no longer approve and record new capacity projects in sectors with severely overcapacity, and will strive to effectively eliminate excess capacity including tires within five years.
According to the tire world network, in the field of tire production, Shandong's production capacity has ranked first in the country for many years, and tire manufacturers have no less than a few hundred. In the previous year, only the tire industry, the province had approved more than a dozen new projects with a capacity of more than 100 million.
However, due to the repeated construction of homogenization projects, not only does it cause serious waste of resources, resulting in a continuous decline in product prices and a decline in economic efficiency, but it also makes more and more tire production capacity idle. For example, the capacity utilization rate of the tire industry in Shandong Province at the end of 2012 was only 64.5%.
"It is precisely because of the rapid increase in tire production capacity in Shandong, so we must control the rhythm. But I think it is difficult to say that this can not achieve the intended purpose." In the acceptance round followed by an exclusive interview, the Secretary-General of Shandong Rubber Association Zhang Hongmin said.
Tire production capacity is still growing
The policy of "controlling" on one side and the countermeasure of "expanding" on the other side are still increasing the tire production capacity that has been seriously oversupplied in China. It is common for media to publish new tire projects at a certain place.
According to relevant data, in 2013, China added 15 million full-steel tires and 100 million semi-steel tires. The annual operating rate of the tire industry has dropped from about 80% in 2012 to less than 70% today.
According to calculations, if all new projects in the past year are put into production, it is expected that in 2014, China will continue to add 15 million full-steel tires and 100 million semi-steel tires. By the end of this year, the total capacity of China's all-steel tires will reach 165 million pieces/year, and the production capacity of semi-steel tires will reach 600 million pieces/year. The structural over-problem of the tire industry will become even more prominent.
A harsh reality is that at present, the overall profit growth rate of the domestic tire industry has dropped significantly. According to analysts, the profitability of tyres may fall below 4% this year.
Deng Yaxi, chairman of the China Rubber Industry Association, is worried. In her view, the current low-end product capacity of the tire industry has a serious surplus, while high-end products are missing and the industry structure has been seriously out of balance. Even so, there are still many companies in the country that are expanding, and the newly launched projects are mostly low-level redundant construction.
"In this way, the structural surplus in the domestic tire industry will become even more pronounced, and competition for product homogeneity is inevitable," she said.
It seems that the game of "expanding" and "controlling" domestic tire production capacity continues.
Flat disk Rotary Damper mainly used for large diameter, small height space. Disk dampers provide energy absorption and rotational deceleration. We offer many different models from mild to extreme. Our disk dampers are the perfect solution for a wide range of applications, from scanner, and glove boxes to auditorium seating to. Disk dampers are designed to control and smooth out the opening and closing of lids, and doors.
Our damper is conducive to performing structural movement in soft, silent and safe environment, mitigating impact load, avoiding strike damage, prolonging mechanical life, reducing noise disturbance, improving product quality and improve customer satisfaction.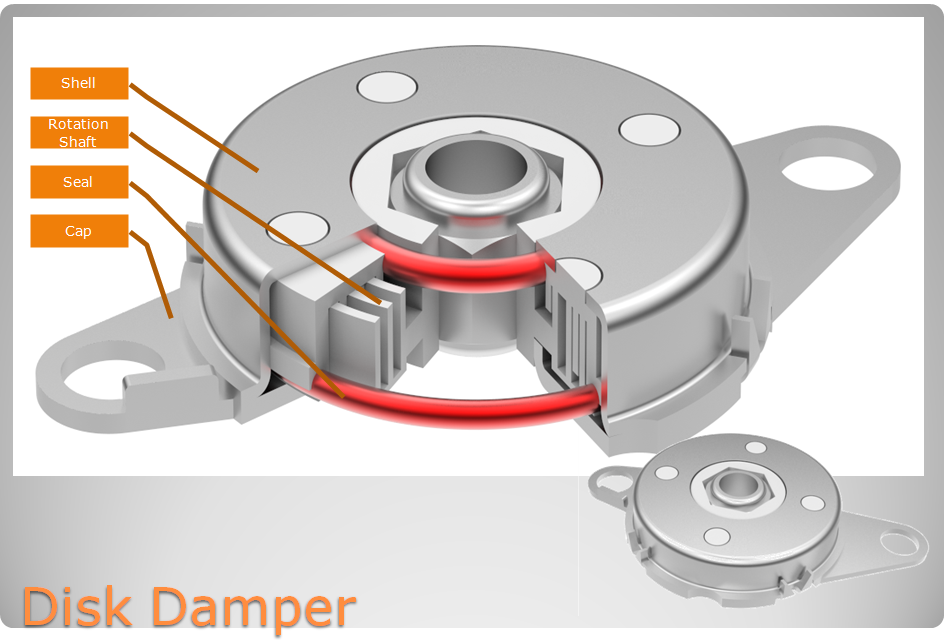 NOTE:
1. Please contact the corresponding product engineer for specific torque products.
2. Max. rotation speed: 50r/min
3. Max. circle rate: 6 cycle/min ( Clockwise360 °, 360 ° anti-clockwise for 1 cycle)
4. Operating temperature: -10~50℃
5. Storage temperature:-30~80℃

| | | |
| --- | --- | --- |
| NO. | Description | Material |
| 1 | Shell | SPFC |
| 2 | Cover | SPFC |
| 3 | Shaft | PA/POM |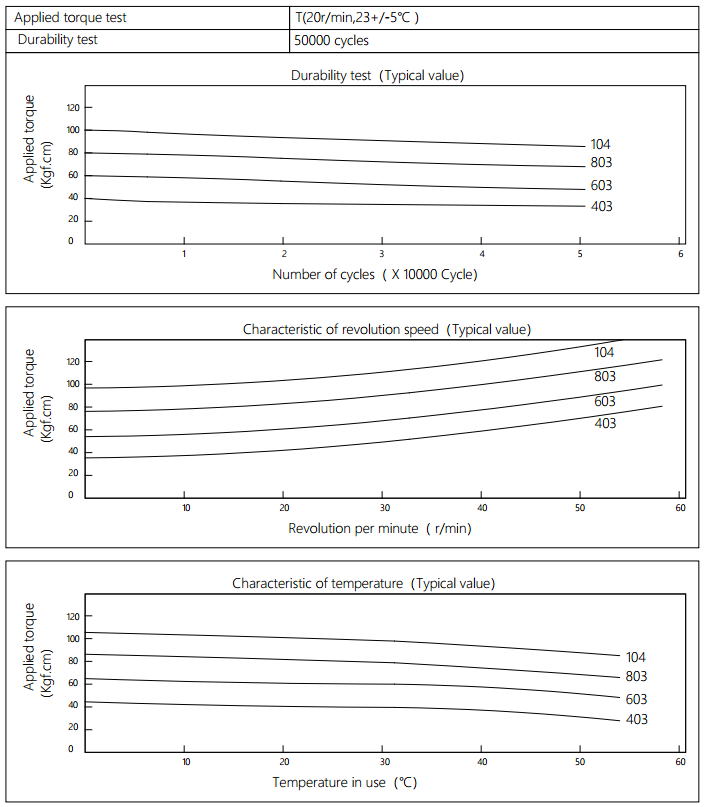 Applied torque:(T)
Test Temperature: 23+/-5℃
Rotating speed: 20r/min
Durability test Metho: Clockwise 360 °, 360 °anti-clockwise
Rotating speed: 20r/min
Test Frequency: (1cycle/min)
Test Temperature: 23±5℃
Durability test cycle: 50000 cycle
Test result criteria: Store in the room temperature for 24 hours or more after the test, recording to the torque T=T±30%T.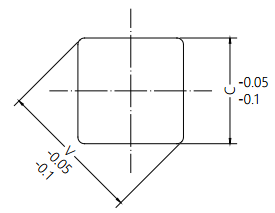 The damper square hole coordinateswith the rotation axis dimension tolerance.
Disk Damper,Adjustable Dampers,Excavator Disk Damper,Spare Disk Damper,Oval Disk Damper
Shenzhen ABD Equipment Co., Ltd. , http://www.abddamper.com