Once again won the honor of Yuchai won the National Machinery Industry Award
Yuchai is
not only shining on the international stage, but also frequently in the domestic machinery industry. With its strong strength, Yuchai ranks first among the top ten enterprises in Guangxi in the "Top 100 Chinese Machinery Industry in 2018". In addition, Yuchai also won the honor of "National Machinery Industry Advanced Collective".
In 2018, in the face of the severe challenges of the slowdown of the world and China's economic growth, Yuchai comprehensively implemented system innovation, technological innovation, product innovation, management and mechanism innovation, achieving a double harvest of sales revenue and operating efficiency for Guangxi Machinery. The high quality development of industry has made positive contributions.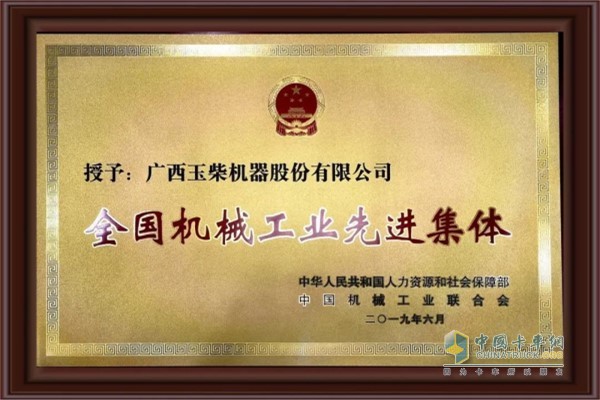 Yuchai harvests "National Machinery Industry Advanced Collective"
At the same time, Yuchai, as a member of the national machinery industry, has been brave in seizing opportunities, deepening reforms, pioneering and enterprising in recent years, and has made positive contributions to promoting the transformation and upgrading of the national internal combustion engine industry and improving quality and efficiency.
Yuchai has been providing more high-quality green power to the world with its strong professional manufacturing capabilities and continuous innovation. From 2018 to 2019, Yuchai has released a series of high-quality national six-engine, non-road national four engines, new energy power lines and new products, and actively promoted the upgrading of China's power industry.
In the future, Yuchai will continue to make progress, continue to upgrade technology research and development and professional manufacturing, build core competitiveness of enterprises to create high-quality products for customers, actively lead the development of the industry, and promote China's machinery industry from "Made in China" to "Created in China" change.
Reading volume: Source: Yuchai Group Author: Le Feng
Calstar® intelligent automatic Solvent Recovery Machine adopts the advanced imported diaphragm pump and Calstar® vacuum pump, the solvent is transported, the original Japanese hot oil circulation, uniform heating, Italy original hydraulic scraper power, recovery speed is 50% higher than other brand machines, you only need to wait a few hours, it is clean and fresh the use of solvent supply. Can choose a single cycle or 24 hours of continuous automatic cycle operation, one machine built-in automatic feeding and vacuum recovery device of automatic feeding, accurate external digital temperature control, double section multi section temperature control heating set, according to the composition of the mixed solvent to be recovered, the heater temperature of multi section setting, so can make different boiling point solvents in accordance with the order from low temperature and high temperature distillation in batches.Full Automatic Solvent Recovery Machine,Intelligent solvent Recovery Machine,Numerically controlled solvent recovery machine,Solvent recovery integrated machine
Full Automatic Solvent Recovery Machine
Fully Automatic Solvent Recovery Machine,Toluene Recovery System,Thinner Recovery Equipment,Solvent Recycling Systems
SHENZHEN KUANBAO ENVIRONMENTAL EQUIPMENT CO., LTD , https://www.calstarkb.com