Made in China 2025 three outlets
China's "Industry 4.0" plan - "Made in China 2025" has finally come to the end. The State Council officially released "Made in China 2025" yesterday. It plans to comprehensively promote the strategy of building a manufacturing powerhouse, focusing on the three major directions of green manufacturing upgrading, smart manufacturing, and high-end equipment innovation, and proposes that by 2025, it will step into the ranks of manufacturing powers, and the entire manufacturing industry will be in 2035. To reach the mid-level level of the world's manufacturing powers, 100 years after the founding of New China, the status of manufacturing powers has been further consolidated, and the overall strength has been at the forefront of manufacturing power in the world. This is the action plan for the first decade of our country's strategy to build a strong country.

Accelerate green manufacturing upgrade

The green upgrade is a major highlight of this manufacturing in China. "Made in China 2025" is clear and accelerates the transformation of the green manufacturing industry; it actively promotes low-carbonization, recycling, and intensification to improve the efficiency of manufacturing resource utilization; and strengthens the product lifecycle green. Management, and strive to build an efficient, clean, low-carbon, circular green manufacturing system. By 2020, the emission intensity of major pollutants in key industries will drop by 20%. By 2025, the green development of the manufacturing industry and the unit product consumption of major products will reach the world's advanced level, and the green manufacturing system will be basically established.

According to a joint study by the Ministry of Industry and Information Technology and the Chinese Academy of Engineering, China's industry is still the main area of ​​energy consumption and emissions. Industrial energy efficiency, water efficiency and developed countries still have gaps. Among them, the domestic average energy efficiency level of the steel industry is lagging behind 6%-7% compared with the international advanced level, construction materials are behind about 10%, and petrochemical chemicals are behind 10%-20%. China's 10,000-dollar industrial added value water consumption is 569 cubic meters, much higher than Japan and South Korea.

Wang Jun, deputy director of the Consultation and Research Department of the China International Economic Exchange Center, said in an interview with the Beijing Commercial Daily reporter that the development of China's manufacturing industry has taken a road of high energy consumption and high pollution. Many years of development experience has proved that high energy consumption and high pollution The development is not sustainable. At present, the government is advancing the green upgrade of the manufacturing industry to see the sustainable development of the economy and society.

"At present, green manufacturing has become a trend of international development. With the improvement of environmental awareness, consumers are willing to spend more money on low-carbon, environmentally friendly green products. Green manufacturing reflects an orderly and healthy development concept. More and more countries have accepted it and will become an important embodiment of corporate competitiveness and social responsibility, said Bai Ming, deputy director of the International Market Research Department of the Ministry of Commerce.

"Internet +" Opens "Chinese Wisdom"

This year's "Internet +" has become a hot word. The marriage between the Internet and manufacturing has opened up a wave of intelligence. Under LeTV and the Xiaomi ecosystem, hardware devices such as TVs and mobile phones have been dissimilated into the Internet eco-system to grab the entrance.

This time, "Made in China 2025" emphasizes that it is necessary to deepen the application of the Internet in the field of manufacturing, implement trial pilots for industrial cloud and industrial big data applications, and build a number of high-quality industrial cloud services and industrial big data platforms to promote software and services. Open sharing of design and manufacturing resources, key technologies and standards.

Wang Jun believes that China is currently in the late stage of industrialization, and it is also in the stage of informationization. The "Internet+" model actually integrates industrialization and informatization organically, transforms industrialization with information, and promotes it through re-industrialization. The development of emerging industries. The "Internet +" model is also conducive to resolving some of the problems that existed in previous manufacturing industries. In the past, because of blind production, it was easy to cause excess capacity.

The "Internet +" model can help companies understand market conditions in real time. According to the information they obtain, they can organize production and sales, increase production efficiency, and help solve the problem of overcapacity.

"Made in China 2025" also made it clear that it will speed up the development of a new generation of information technology and manufacturing technology, and regard intelligent manufacturing as the main focus of the integration of the two. By 2020, the pilot demonstration project's operating costs will be reduced by 30%, the product production cycle will be reduced by 30%, and the defective product rate will be reduced by 30%. Chen He, director of the Institute of Industrial Economics at Capital University of Economics and Trade, said that the development of China's manufacturing industry faces many constraints, the most obvious of which is the increase in labor costs. Intelligent manufacturing is conducive to prolonging the competitive advantages of China's manufacturing industry. The development of smart manufacturing can increase production efficiency and help enterprises cope with rising labor costs in the future. It can also accelerate standardized production and maintain competitive advantage.

Implement high-end equipment innovation project

Our country surpassed the United States in 2010 to become the world's largest manufacturing country, but the characteristics of being big but not strong are still prominent. In particular, the competitiveness of high-end equipment manufacturing has yet to be strengthened. Taking the IC industry as an example, nearly 80% of integrated circuit chips rely on imports. Among them, the import rate of high-end chips is more than 90%, highlighting that China's manufacturing industry is not capable of independent innovation and the key core technologies are missing.

In response to this, "Made in China 2025" proposed the organization of large-scale aircraft, aero-engines and gas turbines, energy-saving and new energy vehicles and a number of innovation and industrialization projects and major projects. By 2020, these areas will be independently developed and applied. By 2025, the market share of high-end equipment with independent intellectual property rights will increase significantly, the dependence on core technologies will decrease significantly, and the basic supporting capacity will increase significantly. The equipment in important fields will reach the international advanced level.

"The key to changing the country's manufacturing industry is not strong but high-end manufacturing must have a breakthrough. At present, China has a certain gap in the high-end manufacturing industry, whether it is brand or technology and the international advanced level." Wang Jun said.

In Bai Ming's view, high-end medical equipment, high-end CNC machine tools, marine engineering equipment, and civil aerospace are not only the areas in which high-end equipment is currently concentrated, but also represent the direction of future new industry development. China still has certain areas in these areas. The foundation, it is not too late to catch up now. Because of the relatively large investment in these areas and the difficulty in starting profits, it is necessary for the State to provide support and help them to reach the initial stage of development.

Inkjet Receptive Coating enhances the printing capabilities of your materials. It has excellent print ability with both pigment and dye based Inkjet Inks. Our coatings are 100% water based, 100% Eco solvent, non-hazardous and non-flammable. Ink Receptive Coatings enhance the properties of base papers like cast coated paper/RC Photo Paper, plastic films like PET/PP, fabric, and canvas like cotton / polyester to provide a high quality print surface with a matte, satin or glossy finish. This product has strong absorbed property, good adhesion, excellent waterproof, and has fluorescent and certain cover effect. It shows colorful vividness, truly color rendition, rapidly drying. It can do the different glossy or matte performance according to customer request. Quanxu Technology also developed base coating Compare with traditional calcium carbonate base coat, our base coat has more environmental, outstanding base coating effect, excellent waterproof performance, perfect colorful vividness, strong ink absorption and adhesion ability. It could use air-knife machine, scraper knife machine, Needle Coating Machine to coat our materials. We, Quanxu Technology is the first professional photographic Imaging chemicals and technical solution service provider in China Market. Quanxu Technology has pioneered the development of the company by listening to the customers` needs.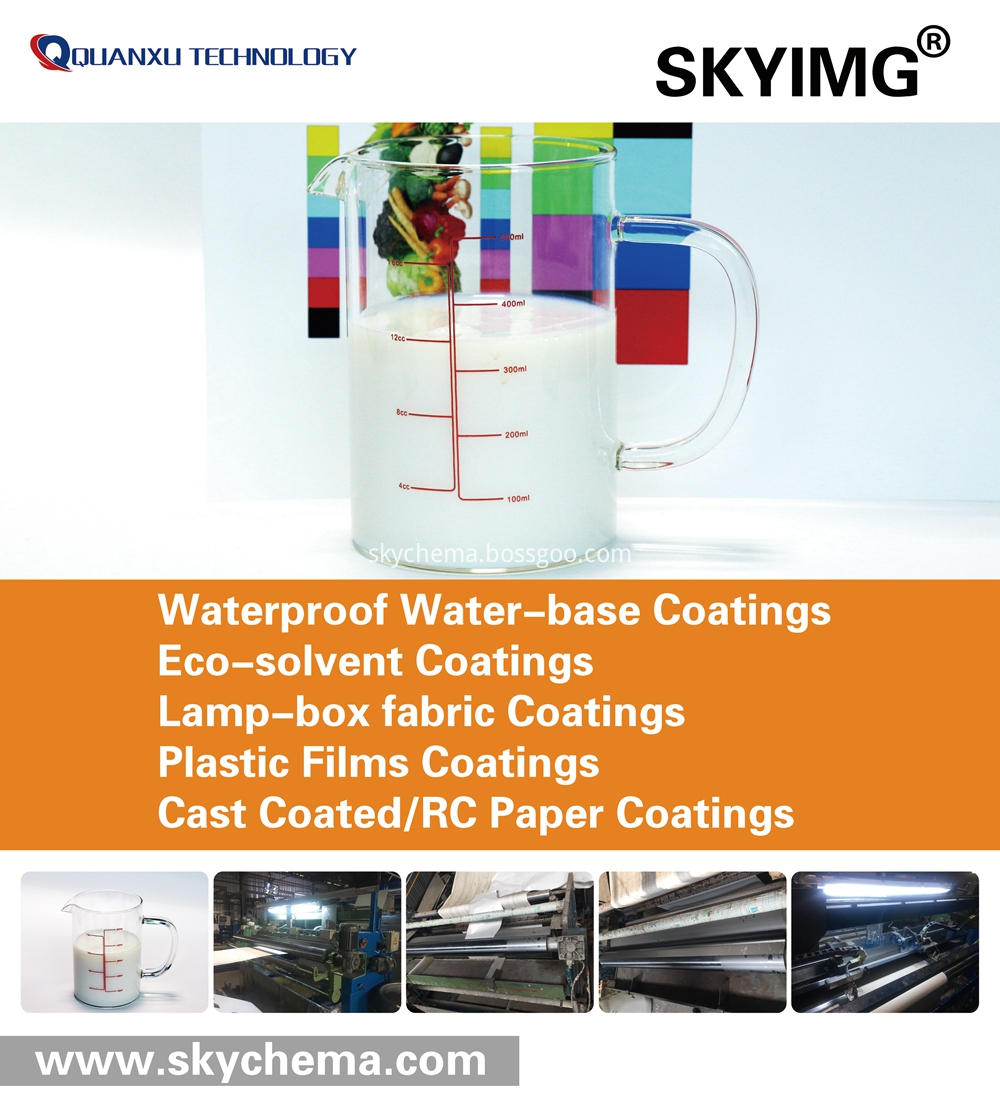 Inkjet Receptive Coating,Wide Format Printer,Inkjet Paper,Inkjet Coating Spray
Guangzhou Quanxu Technology Co Ltd , https://www.skychema.com